All Things Equal - The Life and Trials of Ruth Bader Ginsburg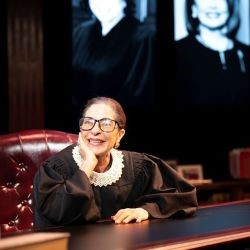 Friday, March 22, 2024 - 7:30PM

Starring Michelle Azar as Ruth Bader Ginsburg

Directed by Laley Lippard

Over the course of 90 fascinating and often funny minutes, this new play by Tony Award-winning playwright Rupert Holmes lets you step into RBG's life and her many trials: She lost her mother the day before she graduated as valedictorian of her Brooklyn high school. While she was one of only nine young women studying law at Harvard, she was raising a daughter and helping her husband battle cancer. She fought for women's rights in the 1970s and took courageous stands for human rights as a voice of reason amid a splintering and increasingly politicized Supreme Court. Don't miss this intimate portrait of an American original.